This beer is a made-up recipe that's not based on anything in particular. Original inspiration was Driftwood's Naughty Hildegaard, a Mosaic-hopped "ESB" that drinks more like a slightly malty IPA, though this beer has morphed into something a little darker to suit the late fall weather. I'm not really sure what to expect.
The details:
64.0%   Thomas Fawcett Maris Otter
21.3%   Thomas Fawcett Amber malt
7.1%    Thomas Fawcett Dark Crystal (83-90L)
5.2%    Flaked oats
2.4%    Thomas Fawcett Pale Chocolate
0.5 oz Centennial @ 60 min
1.0 oz Centennial, 1.0 oz Mosaic, 1.0 oz Amarillo @ 5 min
1.0 oz Mosaic, 1.0 oz Amarillo steeped for 10 mins after boil
WLP005 – English Ale yeast
Dry hop (6 days): 4 oz Mosaic, 0.5 oz Centennial
OG: 1.050    FG:  1.015    IBU: 50    ABV: 4.6%
Brewed: October 8th, 2015
Bottled: November 3rd, 2015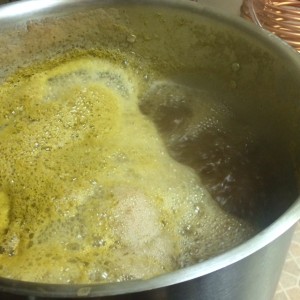 Tasting Notes: 
[Nov 3, 2015]  Bottling day. A little backstory: this was brewed in a friend's parent's place. So it wasn't overly accessible, especially by me. So I got lazy and didn't worry about attenuation because it was a pretty straightforward beer. Poured a cylinder sample during transfer to the bottling bucket and didn't bother sticking the hydrometer in until the end of bottling because I thought it was a formality. Well, lesson learned!! This stalled / kicked out at 1.024, easily ten points higher than I'd have expected. Now I fear that the yeast will wake up, knock a few more points off, and over-carbonate the bottles. Needless to say I will be opening one regularly, and in all likelihood drainpouring at least a portion of the bottle. We'll see.
As for tasting notes: the aroma is great. But it was dry-hopped with 4 ounces of mosaic alone. As you would expect it's overly sweet on the malt side. The darker malts are pretty weird, I feel like they might work if the beer was a LOT drier though. Hard to say.