Brewed:  March 6th, 2016          Bottled: March 30th, 2016
This was a re-brew of the first homebrew batch myself and my occasional brewing partner, Sean, ever made. We kept the recipe identical with the exception of the hop schedule, which was adjusted from 15 and 5 minute additions to a 60 minute bittering charge and a whirlpool addition. We're considering it an annual brew that we hope to brew every March.
Details: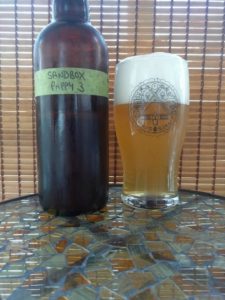 10 lbs Bohemian Pilsner
2 lbs Wheat malt
0.5 oz Azacca (AA 10.3%) at 60 minutes
1.5 oz Azacca (AA 10.3%) at 5 minutes
Mashed at 153F for 60 minutes
Boiled 90 minutes
Fermented at 68-70F
Tasting Notes:
03/30/2016 – Tasting very good on bottling day, the azacca hops are coming through loud and clear with a nice distinctive citrus flavour.
05/31/2016 – This beer turned out well. The azacca is quite distinctive, and was coming through with a minty herbal quality for a bit but has come around to retain its uniqueness without being odd. Great head retention, lots of hop aroma and flavour with a balanced bitterness. Quite pleased with this batch – I find myself craving this beer when it's hot out.